Alumnus Dick Stolley Dies at 92
Stolley is remembered as a magazine industry legend and founder of PEOPLE magazine
Watch a video of Dick Stolley talking about his Medill experience. 
Richard "Dick" Stolley (BSJ52, MSJ53) died peacefully in Evanston, Illinois, on June 16 with his family at his side. He was 92. Stolley was a member of the inaugural class of the Medill Hall of Achievement of 1997 and a member of Medill's Board of Advisers since its first meeting in 1984.
Stolley is remembered for his many historic career endeavors in magazine publishing and editing. At Medill, he is revered as a true friend and dedicated alumnus who was always willing to talk to and mentor students and alumni.
"Dick was not only a towering figure in 20th century journalism, he was a tremendous friend and supporter of Medill," said Medill Dean Charles Whitaker. "The talks he gave to students about his legendary career were riveting. He generously lent his time and talent to every Medill dean who called upon him. He will be sorely missed."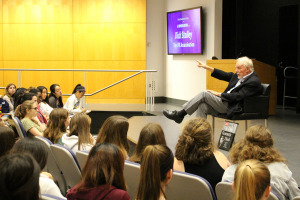 Stolley was the founding editor of PEOPLE magazine and a longtime writer and editor for Time Inc.
In a statement provided by Dan Wakeford, editor in chief of People, Wakeford said:
"Dick Stolley was a legendary editor whose vision and execution established the most successful magazine of all time that America fell in love with. He was an amazing journalist whose work and magazine craft we still refer to every day at PEOPLE as it's still so relevant. He wrote in his first editor's letter in 1974, 'PEOPLE will focus entirely on the active personalities of our time-in all fields. On the headliners, the stars, the important doers, the comers, and on plenty of ordinary men and women caught up in extraordinary situations.' And that is what we still do nearly 50 years later — we tell stories of ordinary people doing extraordinary things and extraordinary people doing ordinary things. I'm indebted to Dick for creating a magazine with heart that is a force for good and continues to change millions of lives."
Stolley is also remembered for his work for Life magazine, where he pushed boundaries in his coverage of the fight for Civil Rights in the South and, most historically, for his success in obtaining the Abraham Zapruder footage of the assassination of JFK in Dallas in 1963.
Stolley described his first interaction with Zapruder in an article in Time magazine in 2013. Stolley explained that he located Zapruder by finding his listed number in the Dallas phone book.
"He politely explained that he was exhausted and overcome by what he had witnessed," Stolley wrote. "The decision I made next turned out to be quite possibly the most important of my career. In the news business, sometimes you push people hard, unsympathetically, without obvious remorse (even while you may be squirming inside). Sometimes, you don't. This, I felt intuitively, was one of those times you don't push. I reminded myself: This man had watched a murder. I said I understood. Clearly relieved, Zapruder asked me to come to his office at 9 the next morning."
Eventually, he was able to secure Zapruder's footage for Life magazine for $50,000. That amount was bumped to $150,000 a week later to add additional rights for the magazine's use of the film.
Stolley helped create PEOPLE magazine in 1973.  A test issue with Elizabeth Taylor and Richard Burton gracing the cover "flew off the newsstands," Stolley said in a 2015 interview, and the magazine launched in March 1974 with Stolley as editor.
"The one thing that I've always wanted to say, when we started, I said, this is not a celebrity magazine. This is personality journalism," he said. "And we will be doing stories all over the world, which we did and still do, and it will be on all people in all walks of life. Some will be well known, some will not. Our motto was, 'extraordinary people doing ordinary things, and ordinary people doing extraordinary things.' And the formula worked then and still does."
"Richard Stolley was a giant among journalists, one of the Medill School's most accomplished alumni of all time," said Roger Boye, associate professor emeritus-in-service. "His coverage of the John F. Kennedy assassination in 1963 for Life magazine, as well as of the civil rights movement in the South during the 1960s, will serve as models of initiative and professionalism for generations of journalists to come.  His entrepreneurial vision helped to bring about the founding of People magazine in 1974, with Dick as the magazine's first managing editor.  He championed great story telling in journalism but only with meticulous attention to detail and total factual accuracy.  That is perhaps his greatest legacy."
In addition to his roles at People magazine, Stolley was assistant managing editor and managing editor of Life magazine, as well as director of special projects for Time Inc.
Source: Medill and PEOPLE.com 6/17/2021
https://people.com/human-interest/richard-stolley-peoples-first-managing-editor-dies-at-92/
The family requests that gifts in memory of Dick Stolley be directed to the Medill School. Gifts may be made online or mailed to:
Northwestern University
Alumni Relations and Development, Gift Services
1201 Davis Street – Suite 1-400
Evanston, IL 60208-4410