Raymond C. Nelson, 92, retired professor and associate dean at Medill, died May 30, 2021, in Seattle. Survivors include his wife, Carol; a son, David; and a daughter, Leslie Nelson Kellogg.
He wanted to be remembered simply as a reporter, writer and teacher, which summarizes the three legs of his career. But he was far more than that—a man with a wide variety of interests, a deep knowledge of his disciplines, and abiding affection for friends and colleagues. Despite being a city boy, he developed an avid interest in the outdoors: sailing, bicycling, camping and skiing. He was also a lifelong baseball fan. His mother's family was from the St. Louis area and he managed to become a St. Louis Cardinals bat boy. As a South Sider, he was a White Sox fan. He also played a bit of semi-pro baseball but disliked the bus travel.
"I think the singular, most important thing to know about my dad was his curiosity about anything," said his son. "He always wanted the details about something with constant questions, always probing to try and get to the heart of understanding the topic in question."
Retired faculty member David Nelson (no relation) praised him as "an efficient, loyal and low-key administrator" who "provided the detail work behind many of Medill's major mid-20th century projects, serving as its associate dean. He made sure that multimillion-dollar grant proposals to the Gannett and Ford foundations were in perfect order. They were. And Medill launched its Urban Journalism Center for mid-career journalists to study race and social inequities nearly a half-century ago. He also played a major role in overseeing the school's first journalism residency program. An unassuming man, Prof. Nelson left his mark as an able administrator. We owe him a debt of thanks and wish his family solace at this time."
Born in Chicago in 1928, Ray attended Tilden Tech, then enlisted in the Army and did occupation duty in Korea with the 31st Infantry Regiment. At the time of his discharge in San Francisco, the Army tried to get soldiers to re-enlist by offering promotions. "We knew a war was coming in Korea," said Ray. "The signs were everywhere and we wanted nothing to do with it."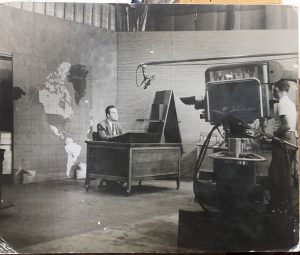 In 1952 he earned a journalism degree from the University of Missouri Columbia, working as a reporter until he went to Medill for a master's in 1955, winning the Harrington Award for being an outstanding student in the Radio-TV sequence.
He caught on at KBUR in Burlington, Iowa. The story goes that Ray worked the 1956 Democratic National Convention in Chicago and came to the attention of NBC's Sam Saran (Medill '5?), who helped bring him to Chicago and WMAQ as a reporter. One duty was a program called "Night Desk," an early and innovative mobile-reporting effort. Using a broadcasting/recording setup in a panel truck, reporters did mobile stories throughout the city.
After a stint in public relations at the National Education Association in Washington, D.C., he rejoined Saran in 1963 in Northwestern's public relations department at the time of the lakefront expansion. From there he moved to the Medill faculty in 1966, eventually serving as associate dean. "My dad was extremely proud of being associated with NU generally and Medill specifically," his son said. "The Cherubs program was something he frequently spoke about as well as the Teaching Newspaper Program. From an immediate family perspective, my dad was proud that everyone in the family had earned a degree from NU."
George Harmon, who was on the faculty when Ray was associate dean in the 1980s, remembers: "Ray was smart, cheerful and innovative. As associate dean he effectively mentored faculty members who joined Medill in the early 1980s. In later years he liked to experiment with new courses and with old courses that needed new wrinkles. When working downtown in news, he earned a reputation as a go-get-'em newsman who loved chasing stories."
The Nelson family lived for years in Wilmette. After retiring in the 1990s, Ray and Carol moved to Seattle. Eventually they built a house in Port Townsend, where they enjoyed an active retirement.