Robert "Bob" Mulholland, Medill alumnus and former Medill professor and broadcast chair, died peacefully March 9 in Naples, Florida. He was 87.
Mulholland received his bachelor's degree at Medill in 1955 and his master's in 1956. After serving for two years in the U.S. Army in Korea, his career was spent in broadcasting, most of it with NBC. He joined NBC in 1961 as a news writer in the network's Chicago station, WMAQ-TV. Twenty years later, he was named president and chief operating officer of the entire company. In the intervening years, Mulholland worked in the NBC News London bureau; was the Washington producer for the well-known "Huntley-Brinkley Report;" was director of news for KNBC, the NBC-owned station in Los Angeles; was executive producer of the "NBC Nightly News with John Chancellor;" and was executive vice president of NBC News.
"Bob's contributions to Medill are still seen today through our outstanding broadcast journalism program," said Medill Dean Charles Whitaker. "His legacy lives through all the students who use his lessons to share some of today's most important stories. We will forever be thankful for his talent and tenacity, and grateful that he chose to share it with Medill."
Mulholland was named president of the NBC network in 1976, and in 1981, he was promoted to president and chief operating officer, assuming additional responsibility for the company's five owned television stations, as well as the news, sports and radio divisions. He left NBC in 1984.
Mulholland returned to his alma mater in 1988, where he is credited with revamping and revitalizing Medill's broadcast program.
David Nelson, associate professor emeritus and Mulholland's colleague and friend, recalled, "A grin that welcomed you as a friend. A heart open to all. A commitment to journalistic accuracy and fairness. And an exceptional intellect sprinkled with curiosity. Bob Mulholland was special. Really special.
"I got to know him for 50 years, he admirably remained the same person – in the board room, in the classroom, on the golf course or tennis court. And, oh, did I mention his sense of humor? About 20 years ago Bob and I helped Dillon Smith drive his antique Bentley from Chicago to Naples. I drove. Dillon directed. Bob sat in the luxurious back with teak table down, food and beverages at the ready. Several times cars and even trucks would slow down to see who was in this Rolls Royce. Dillon would say: 'Bob, another one's coming up on the left and looking.' Bob would grab the Grey Poupon mustard jar from the table, hold it out the window and flash that smile that could stretch from New York to Los Angeles. We played like high school kids all the way to Florida."
While at Medill, Mulholland was named in the 1952 and 1953 Syllabus yearbooks as one of the top members of the varsity rifle team. At the time, he chose a letter blanket instead of a jacket, but upon returning to Medill to teach, he decided he would like a jacket.
"How many faculty members have an NU letter jacket?" he told the Daily in September of 1989, adding, "Now I can't wait for the cold."
That same year, Mulholland spearheaded the expansion of Medill's quarter-long externship program, then called Teaching Newspaper, to include television stations. He was adamant that the students have a chance to do real broadcast work, telling the Daily Northwestern, "I would like them to go to smaller stations where they will do everything. I don't want them to go into Chicago where they'll just stand and watch." The first five students were placed into television stations in the fall quarter of 1990.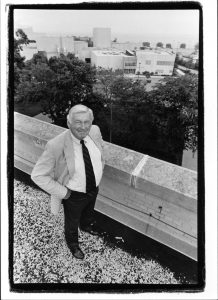 It was also during Mulholland's tenure that a new studio building was constructed in partnership with the School of Speech, now School of Communication. The building, John J. Louis Hall, opened in the fall of 1991 and featured a state-of-the-art broadcast studio for Medill students, complete with fold-out bleachers so students could watch the productions and carrels for the student reporters to write their stories.
"Bob and I have been friends from the time we met at Medill in 1956," said friend and MSJ classmate Al Borcover. "From the outset, he was a friendly, professional, humble, funny guy. He was a great scrounger. Shortly after he joined the Medill faculty, I recall that he was able to get a satellite dish (I believe from WGN) to provide live feeds for his students, and an anchor desk that was being discarded by Channel 5. Bob was always a hands-on guy. He was a pro at Medill, WGN, NBC and throughout his life."
In the spring of 1992, Mulholland spoke to a group of Northwestern students in the Communications Residential College. His talk, "Television in the year 2000," covered five decades of TV history and included some prophetic forecasts for the future. Accurately, he predicted that fiber-optic cable would create thousands of available channels and total viewer control. "New technology may also allow viewers to 'punch up' any program they want, at any time of the day, for a fee," Mulholland told the students.
Medill Professor Emeritus Donna Leff headed the search committee for Mulholland's replacement. "​Bob Mulholland was a consummate broadcast professional who brought distinction, honor and considerable joy to Medill," Leff said. "Although famous, and truly accomplished at the highest levels of network television when network television was the industry's gold standard, Bob was a dedicated, accessible and beloved teacher."
He retired from Medill in 1993 and was inducted into the Medill Hall of Achievement's inaugural class in 1997.
Mulholland is survived by his wife, Judith, of Naples, Florida, daughter, Leslie (Leigh) Anderson (Chris) of Amherst, New Hampshire, son, Todd Mulholland (Licet) of Naples, Florida and stepsons, Michael Holleran of Warrenton, Virginia and Matthew Holleran of Menlo Park and San Francisco, Calif. and seven grandchildren.
Mulholland met Judith while he was working at Medill after NBC. Shortly after, they both retired and moved to Naples, Florida.
About their joint retirement, Judith said, "We took up golf, something neither of us had tried before, and Bob discovered gardening. He loved working in the yard. He enjoyed creating beds of plants, many of which he shared with others and others shared with him. On March 23, we will have been married 30 years."
About his distinguished career, Judith said, "Bob had an exciting career at NBC, eventually becoming President. During his years there, he helped launch the careers of Tom Brokaw, Bryant Gumbel and Tom Snyder. He negotiated Johnny Carson's contract in Johnny's kitchen after one difficult season, just the two of them."
Photo: Mulholland on the roof of Kresge Hall with new studio building in the background. Undated photo courtesy of the NU Archives.