Classic Amusement owner George D'Olivo is a former pro-wrestler who went by Beautiful Bo Paradise in his pro-wrestling days. It didn't take him long to figure out that a journalist working in his carnival was problematic. Carnivals are about fantasies. Journalists crush fantasies. Soon, Mr. Paradise saw me as Mr. Trouble in Paradise.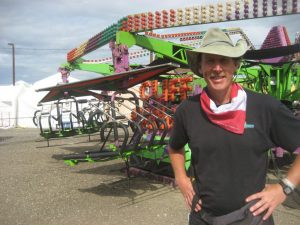 No carnival owner will hire a writer like you, he said. And the "new face" of the American carny is a seasonal Mexican migrant worker. You don't speak Spanish. Your traveling carnival project, he said, wasn't well thought out. He may have even used the word "stupid."
The more problems he raised, surprisingly, the more I felt like I was shooting sitting ducks at a carnival. Every obstacle presented a solution. Firstly, some Mexicans speak English, and I'll get to know them. After the season ends, I'll go to Mexico to see how they live in "winter quarters."
If no carnival owner hires Mike the writer, then they'll hire Mike the carny.
"Gone were the plans to spend the year with Classic," I wrote in American OZ. "Gone too were open, honest interviews. From that morning forward, people wouldn't know I was writing about them. Against my will, I became a spy."
I became a "ride jockey" running rides and a "jointee" running games in California, New Jersey, New York, Chicago, Alaska, Minnesota, Oklahoma, Texas, Georgia, and Florida – where I worked in a freak show but they didn't let me on stage "because they didn't see the inner freak in me."
After the season, I journeyed down to the mostly lawless foothills of Veracruz, Mexico to meet with workers I knew up north. The small town of Tlapacoyan is a feeder town that sends most of its men north to traveling carnivals every year. As a result, it's nearly empty of men most of the year.
Living on carnival wages, I hitchhiked 13,700 miles from the Pacific to the Atlantic, Alaska to Florida. I became the #1 hitchhiker in North America that year. In all, I covered 21,570 miles via bus, train, and hitchhiking.
During the year, I wrote an ongoing blog for The Huffington Post, my own blog https://eyeslikecarnivals.com/, and I wrote a 2013 essay for Northwestern magazine's column "Purple Prose" http://ow.ly/uhk750FktlS. I wrote the Purple Prose column at a McDonald's outside the State Fair of Texas, where I was running a carnival game of dubious repute.
New York and Chicago publishing houses didn't want a "carnival" book. And "hitchhiking" books still are publishing poison. I worked with a literary agent, but we parted ways when the big advance didn't materialize.
Through six years of rejections and rewrites, the book grew more compelling until I self-published American OZ: An Astonishing Year Inside Traveling Carnivals at State Fairs & Festivals: Hitchhiking From California to New York, Alaska to Mexico in the summer of 2020. It remained a #1 Amazon bestseller well into this year.
The hidden core of American OZ became clearer to me with the rewrites. All the facts and quotes remained, but coworkers grew to represent the working poor, without healthcare, living in unsanitary conditions, and subject to labor abuses on the road. The stories fleshed out the humanity of people seeking love and meaning on the road. The year developed a story arc with deeper meanings and universal themes.
If I felt anxious about my loved ones far away from the carnival, I dug down to mine those feelings for American OZ. If I was tired, broke and feeling abused, it was a good guess I wasn't the only one. American OZ took on an inner life.
It's not that the book would not have seen the light of day without advances in self-publishing. George Orwell gained praise for writing Down and Out in Paris and London. Medill's own practitioner of the "journalism of empathy," Alex Kotlowicz, won the 2020 Lucas Prize for An American Summer, a chronicle of gun violence in Chicago. They successfully wrote about the harsh edges of society.
Yet it was the long, hard road writing American OZ that taught me that living the life made writing the life come to life.