Medill welcomes nine new faculty members
Photo: Images (left to right) correspond with ordered listing.
Debbie Cenziper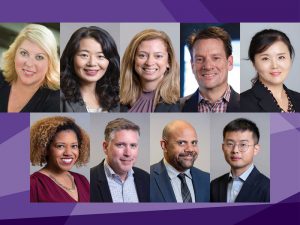 Debbie Cenziper is a Pulitzer Prize-winning investigative reporter. She will serve as associate professor and director of investigative reporting. She will also lead the Medill Investigative Lab. Cenziper has been working at The Washington Post and as an assistant professor of journalism at The George Washington University School of Media and Public Affairs.
Helen Chun
Helen Chun is an associate professor for the IMC program. Chun's research focuses on managing and enhancing consumer experience. Her ongoing work examines technology-driven consumer insights and explores how an evolving high-tech interface disrupts traditional marketing communications. Her research papers have been published in leading marketing and services journals. She also has a courtesy appointment at Northwestern Kellogg School of Management. Chun has a Ph.D. in marketing from the University of Southern California.
Kelly Cutler
Kelly Cutler is a lecturer and director of the IMC Part-Time and Online programs. She is also the founder and CEO of Kona Company, a digital strategy firm. Cutler has more than 20 years of experience in digital marketing. Prior to founding Kona Company, she co-founded and led a Chicago-based search engine marketing firm for 11 years. She began her career working for Classified Ventures, Cars.com and AOL.
Greg Green
Greg Green joins our faculty as a Lecturer for the IMC program. Green's background includes leadership roles in Marketing Analytics, Research and Consumer Insights focused on Digital Media and Marketing with companies such as PwC, Publicis, and Google. He specializes in extracting the untapped value in research and corporate data, focused on creating data driven decisioning cultures at the intersection of creativity and analytics. Green has a Ph.D. in Mathematics from Claremont Graduate University in California.
Eunhee Emily Ko
Eunhee (Emily) Ko is an assistant professor of IMC. Her research interests span online marketing and user-generated content as well as applications of machine learning and econometric methods. She earned her master's in analytics from Northwestern McCormick School of Engineering, and her Ph.D. in marketing from Emory University.
Arionne Nettles
Arionne Nettles will be responsible for Medill's publishing platform, Medill Reports, and serve as a lecturer. Nettles has been a digital producer for WBEZ, Chicago's NPR affiliate, as well as an adjunct lecturer at Medill. Before her work at WBEZ, Nettles was a multiplatform editor for the Associated Press and the digital editor for the Chicago Defender.
Matthew Orr
Matthew Orr joined the faculty as assistant professor in January. Based in Washington, D.C., he will support Medill's video and broadcast productions. Orr serves as the director of multimedia and creative at STAT News and is an award-winning journalist and filmmaker with nearly 20 years of experience in the industry. Before joining STAT, he worked at The New York Times for 13 years as a senior video producer and reporter.
Steven Thrasher
Steven Thrasher is the inaugural Daniel H. Renberg Chair and an assistant professor of journalism. He will focus on social justice reporting and issues relevant to the LGBTQ community. Thrasher has worked as writer-at-large at The Guardian, staff writer at the Village Voice and facilitator for the NPR StoryCorps project. His articles are regularly published in The New York Times, BuzzFeed News, Esquire, The Nation, The Atlantic, The Guardian and The Daily Beast. He has a Ph.D. in American studies from New York University.
Yu Xu
Yu Xu is an assistant professor in IMC. He specializes in the intersection of organizational communication, networks, technology, strategy and computational social science. His current research investigates ecological and evolutionary foundations of behavioral and network change, especially in the context of digitally mediated communities. Xu has a Ph.D. in communications from the University of Southern California.
Prof. David Abrahamson Retires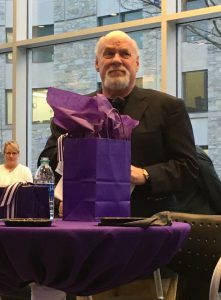 The founder of Medill's Literary Journalism seminar, Abrahamson celebrated his retirement from Medill  after 26 years on the faculty at a full-house send off on Jan. 29, 2020 at the McCormick Foundation Center in Evanson. Abrahamson taught long-form writing and magazine editing and was the co-director of the graduate Magazine Publishing Project.
While at Medill, Abrahamson was the general editor of a 40-volume historical series, "Visions of the American Press," published under the Medill imprint by the Northwestern University Press. With more than 20 years of experience as a magazine writer, editor and management consultant, Abrahamson's background includes senior editorial positions at a number of national consumer magazines, including Car and Driver and PC/Computing. He is the author of "Magazine-Made America: The Cultural Transformation of the Postwar Periodical," an interpretive history of the magazine profession in the last half of the 20th century, and editor and co-editor of two definitive anthologies of magazine scholarship, "The American Magazine: Research Perspectives and Prospects" and "The Routledge Handbook of Magazine Research: The Future of the Magazine Form" (forthcoming). Raised in Annapolis, Maryland, Abrahamson holds a B.A. in History from Johns Hopkins University (1969), a Master's degree in Journalism from the University of California, Berkeley (1973) and a Ph.D. in American Civilization from New York University (1992).
NPR's Antonia Cereijido named inaugural Cecilia Vaisman award winner by Medill, NAHJ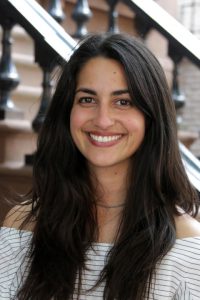 Audio journalist Antonia Cereijido (BSJ14) has been selected as the first recipient of the Cecilia Vaisman Award for Multimedia Reporters. The award is a partnership between Northwestern University's Medill School of Journalism, Media, Integrated Marketing Communications and the National Association of Hispanic Journalists.
Cerejido visited Medill Nov. 5, 2019 and spoke to Medill students, faculty and the NU community at Harris Hall.
Cereijido is an award-winning producer at NPR's Latino USA where her coverage has included a profile of the Mexican-American man who became wealthy by building controversial shelters housing migrant children, a meditation on whether Latinos cry more on average, and a historical and feminist analysis of Mattel's Frida Kahlo "Barbie."
Members of the award selection committee, which included NAHJ Chicago and student chapter members, along with Medill representatives, selected Cereijido based on her body of work, as well as her willingness to mentor students, speak in classes and serve as a role model. The award, which will be given annually, includes a $5,000 cash prize. Cereijido will visit Medill in November to talk about her audio journalism work with students, faculty and the community.
The award is named in memory of Vaisman, a Medill associate professor who was a leader in audio journalism and a member of NAHJ. The award recognizes Latinx and Hispanic audio and video journalists who bring light to the issues that affect the Latinx and Hispanic communities in the U.S. and around the world.
Cereijido is an alumna of Medill where she had Vaisman as a professor. "Through Cecilia's guidance, I learned of stories that rejected tropes that portray immigrants as one dimensional and showed how immigrants could make art of their lives by daring to envision new futures. She was a fierce advocate for quality and thoughtfulness," said Cereijido. "At the editing phase of every story I produce, I wonder what she could take issue with or what other sources she would suggest … I am deeply honored to be given this award and am very grateful to both Medill and NAHJ."
Cereijido was a USC California Health and Institute for Justice and Journalism Fellow. She was the co-host of The Payoff, a podcast about personal finance for millennials from Mic.com, a guest on Buzzfeed's Another Round and on Slate's Represent. She also hosted a Twitter exclusive video for the History Channel. She has interpreted for This American Life and Love + Radio.
Mark Trahant (Shoshone-Bannock) is the winner of the 2019 NAJA-Medill Milestone Achievement Award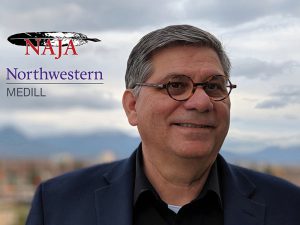 The Native American Journalists Association (NAJA) and Northwestern University's Medill School named Mark Trahant (Shoshone-Bannock) the 2019 NAJA-Medill Milestone Achievement Award recipient.
The award honors an individual who has had a lasting effect on media to the benefit of Indigenous communities. The award is given jointly by the Native American Journalists Association and the Medill School of Journalism, Media, Integrated Marketing Communications. The award celebrates responsible storytelling and journalism in Indian Country.
Trahant is editor of Indian Country Today. He reflected on the first tribal editor, Elias Boudinot (Cherokee), the namesake for another of NAJA's top awards, when reflecting on the standard for Indigenous journalism.
"[Boudinot] described his paper as 'a vehicle of Indian intelligence.' Even though ink has been replaced by pixels; the task remains the same – to publish an informative daily account that's comprehensive and adds context to the stories missing from the mainstream media.
"We have so many stories to tell. Our mission is simple but important: Solid, factual reporting. Great writing. Photography that inspires and records. Provide a real service to readers across Indian Country's digital landscape," Trahant said.
Trahant previously served as editorial page editor of The Seattle Post-Intelligencer and worked for the Arizona Republic, Salt Lake Tribune, Seattle Times, Navajo Times Today and Sho-Ban News.
He has been a reporter for PBS Frontline, publishing "The Silence," which detailed sexual abuse by priests in an Alaska Native village.
Trahant is known for his election reporting in Indian Country, developing the first comprehensive database of American Indians and Alaska Natives running for office. His research has been cited in publications ranging from The New York Times to The Economist to Teen Vogue.
During the 2018 election, Trahant launched a journalism initiative and as a result, more than 40 Native media professionals conducted the first ever live coverage of election night. Six hours of TV programming was produced at the First Nations Experience | FNX studios in California and viewers were able to get reports about the dozens of Native candidates running for office during this election, which included the first two Native American women voted into Congress.
Trahant was recently elected as a member of the American Academy of Arts and Sciences and has been a professor at the University of North Dakota, the University of Alaska Anchorage, the University of Idaho and the University of Colorado.
The award includes a $5,000 cash prize and an invitation to the recipient to speak with Medill students and faculty on campus in Evanston, Illinois, to further advance the representation of Indigenous journalists in mainstream media.
New fellowship from Medill and The Garage aims to increase diversity among media entrepreneurs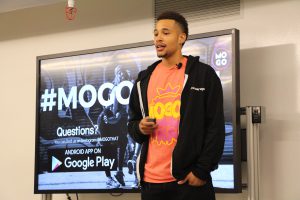 A new fellowship for entrepreneurs working on media and media-related endeavors is being launched by Northwestern University's Medill School of Journalism, Media, Integrated Marketing Communications in partnership with The Garage, NU's entrepreneurial incubator.
The one-year fellowship will identify and support entrepreneurs from underrepresented groups—with an emphasis on women and people of color—who are working on innovation in the media industry.
The fellow will receive an $80,000 stipend for the year, and access to a variety of resources across Northwestern. The fellow also will be able to participate in select classes at Medill and in other areas of the University, and will be an active participant in both the Medill and The Garage communities.
The Garage is an 11,000 square foot space that brings together a cross-disciplinary community of students, faculty, staff and alumni who share a passion for developing ideas. Currently home to more than 60 student-founded startups and projects, the co-working space provides cutting edge technology resources, special programming and mentorship from accomplished entrepreneurs.