As the COVID-19 battle rages, Northwestern alumni are reporting daily from Washington, New York, Chicago and numerous other cities hit so hard by this pandemic.  NBC correspondents Gabe Gutierrez (BSJ05), pictured, Peter Alexander (BSJ98) and Sam Brock (BSJ05, MSJ07) are reporting practically 24-7 on national television. Christine Brennan (BSJ80, MSJ81), one of the nation's foremost Olympic experts, has been interviewing members of Team U.S.A. about the postponement of the 2020 Games.
Medill alum Justin Kerr (BSJ93) shifted the McKinley Park News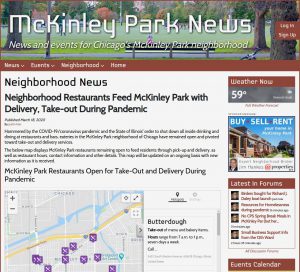 toward coronavirus coverage and features starting in early March when the effects of the pandemic first started hitting the neighborhood. The publication, a micro-local news website covering Chicago's McKinley Park Community Area and Central Manufacturing District, updated its neighborhood event calendars, de-listing canceled events and adding a coronavirus-specific community schedule, including senior shopping hours and food distribution for families of Chicago Public Schools students.
"We changed our coverage, too," Kerr said. "Some articles in development had to be shifted aside to focus on more immediate coronavirus news." This has included a directory of neighborhood restaurants staying open for delivery and take-out, published immediately after Illinois Governor JB Pritzker's order to shutter in-restaurant dining, and a local fabricator's efforts to manufacture 150,000 face shields for Chicago's first responders and front-line medical workers. All news and event content published on the McKinley Park News has been freely available and will remain so, Kerr said.
The coronavirus pandemic also inspired the relaunch of the publication's community forums, including the new McKinley Park Support Network, a set of discussion boards designed to support fast and easy coronavirus communication. Kerr said it's been a handy channel for him to quickly aggregate and share general info that might not have a neighborhood-specific hook to justify a news article, but that's still important and relevant for the readership of the McKinley Park News.
"All of our members — including participating local Institutions — have access to participate in the McKinley Park Support Network," Kerr said. "Access to this and other features on the McKinley Park News is automated and available at no cost."
Kerr noted how the publication's progressive privacy practices support coronavirus dialogue. "Our member privacy policies and tools are best in their class," he said.
According to Kerr, this ethos will help the McKinley Park News weather an environment of economic catastrophe caused by the pandemic. "Our operating costs are designed to be dirt-cheap,"  he said. Kerr noted his own currently unpaid role as the publication's sole staffer. "Where the pandemic will hurt is expanding our revenue to enable staff compensation and look at business expansion into adjacent neighborhoods," he said. "However, I strongly believe in the demand and business potential of high-quality local news: When the pandemic ends, surviving local news publications will hopefully have even more opportunities in what's already a mostly ignored, wide-open market."
Leigh Ann Winick (BSJ84) is a medical producer for CBS News based in New York who is helping shape the network's coverage of the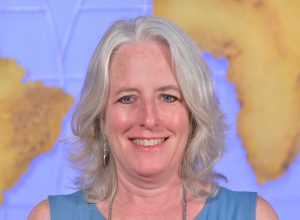 pandemic. Since January, she has produced frequent segments on the emerging virus, fronted by the network's practicing physician contributors. With the first U.S. death in late February, the medical team became command central for the network's multi-platform coverage. Then, on March 11, two colleagues were diagnosed, and the entire CBS Broadcast Center was emptied in one afternoon. Since then, everyone based in New York has been working remotely.
"It's taken a lot of improvising," Winick says. "We no longer obsess over camera angles or lighting. Travel restrictions have increased our reliance on cell phone video. There's an urgency to convey the latest information – which can literally be life saving – and if that comes via a phoner or a Zoom interview from a scientist's hotel room, we'll use that. We are  finding many 'real people' stories through social media. While I'm working harder than ever, I've been fortified by the basic skills I learned at Medill, and the hope that we  are positively impacting millions of lives during this heartbreaking time."
Alumni journalists, however, aren't the only Medillians making a difference during the pandemic.
Preeti N. Malani (MSJ91), MD,  is the Chief Health Officer for the University of Michigan and a Professor of Medicine at the University of Michigan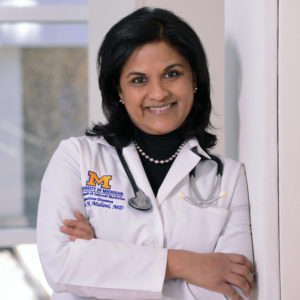 Medical School. She, too, is working on the front line against COVID-19. Rather than covering the pandemic for news outlets, her work in infectious diseases is taking her to the bedside to help care of patients who are sickened with COVID-19.
Like many regions of the country, Michigan is developing contingency plans to care for large numbers of patients (well beyond the usual capacity of our hospital), according to Dr. Malani. She is part of a large multi-disciplinary group involved with the planning of a temporary field hospital to help care for the anticipated patient surge from across the state.
As Chief Health Officer, Dr. Malani advises the university president on all aspects of health and well-being for students, faculty and staff.
"In rapid sequence, we had to make decisions on bringing students home from overseas education, suspending face to face instruction, moving day to day activities to remote locations, and how to support students who can't leave campus," she said. "There are numerous administrative issues that require creative solutions as there is no playbook to address this situation."
Dr. Malani adds that in her role as an associate editor at the Journal of the American Medical Association (JAMA), she has written a series of summaries directed toward clinicians and helped review and edit a number of time sensitive manuscripts that have helped inform patient care, public health measures, and general policies.
"Instead of writing the news story, I've instead given dozens of interviews, and have been asked to provide guidance to several lawmakers including Michigan's governor," she added. "My Medill education continues to pay dividends in unexpected ways. Always grateful for what I learned so many years ago."
David Charns (MSJ11) left his morning anchoring job at WMTW in Portland, Maine, in January for a new challenge, but his search quickly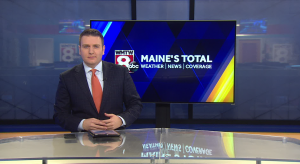 slowed due to the pandemic.
"I wanted to continue working my craft while searching for a new full-time broadcast job," Charns said. "With 24/7 news of this national emergency on many different topics, I have found there was and is a need for concrete, 'Here's what happened, here's what's next' coverage to easily communicate important information news consumers want. I had talked to many people who said they were tuning out because the nonstop news was so grim."
Charns set out to provide quick, daily roundups of all of the major coronavirus headlines across his social media platforms (Facebook, Instagram, TikTok, Twitter and YouTube). In three weeks, he said, these videos have garnered tens of thousands of combined views.
"I am now branching out with interviews with people impacted by this emergency, which will be posted soon along with the news of the day."
IMC15 graduate Sunny Williams and his team at Tiny Docs are responding to the urgent need for child-friendly content about the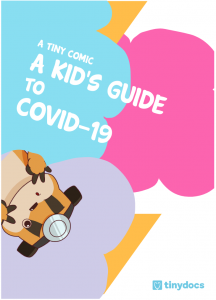 pandemic with Covid-19 health information just for kids.
Tiny Docs, co-founded by Williams in 2015,  produces "Health Caretoons," — animated cartoons that teach kids about their health in a fun, relateable, and easy-to-understand way. The library covers medical procedures, chronic health conditions, and general wellness. "All Tiny Docs content is vetted by our board of pediatricians, child life specialists, and nurses to ensure the information is medically accurate and beneficial," says Williams.
"To help kids manage Covid-related stress and anxiety, we released a caretoon on mindfulness. Our Tiny Comic: A Kid's Guide to Covid-19 teaches kids how to be healthy, how to manage their feelings, and how to be kind during this time of challenge and uncertainty. We've also released several Covid-19 related blogs by experienced and passionate pediatric professionals. And more free caretoons, blogs, and comics will be released in the coming weeks."
In the United Kingdom, IMC alumna Jacine Rutasikwa (IMC10) and her husband, Paul, have converted their rum distillery, Matugga Distillers, into a production house for hand sanitizer to help combat the pandemic.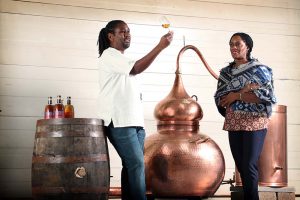 "The COVID-19 pandemic has created a very uncertain landscape for communities and small businesses. With your help, our small family-owned distillery in Livingston can support our local NHS and care workers while building our company's resilience during challenging times," Rutasikwa told supporters in a March e-Newsletter to supporters.
"The impact of the coronavirus pandemic on our way of life is still unfolding, but it is profound," she said. "From the uncertainty and chaos, new norms will emerge. And therein lies the big opportunity for our resilient community – to reshape new realities. Above all, now is the time to pull together, look after one another and refuse to let our spirits drop."
Finally, on the student side, the Northwestern News Network team created a great segment on COVID-19 coverage. And,  The Daily Northwestern, under the direction of newly appointed editor Marissa Martinez (BSJ21), has been producing COVID-19 coverage with the help of Daily staffers sheltering at home nationwide. Martinez is interviewed in this Chicago Public Radio station story. First year Medill undergrad, Andrew Rowan, successfully placed his first professional story in Teen Vogue: "With college mental health centers closed, many students are working out the kinks of online therapy," which came out of research he began in a class in the fall quarter.
Photo credit Gutierrez – MSNBC
Photo credit Malani – University of Michigan 
Photo credit distillers: Stewart Attwood